Pearl Jam kicked off their "World Jam" tour in Amsterdam on June 12th and June 13th.  Both shows sold out almost immediately as it's been 4 years since the band has visited the Ziggo Dome.  The ticketing lines were very disorganized resulting in long wait times and lines for both the general public and people that are a part of the Pearl Jam "Ten Club".  Because of this the band hit the stage a bit later at 8:25 and there were no opening acts.
Part of the reason Pearl Jam continues to sell out most shows and has legions of fans is because of the structure of their live show.  Most sets from PJ are atleast 2.5 hours with close to 30 songs being performed.  The setlist changes each and every night with only a few songs repeated.  Between both nights there were around 48 unique songs performed and only 6 repeats – quite a feat for any band touring!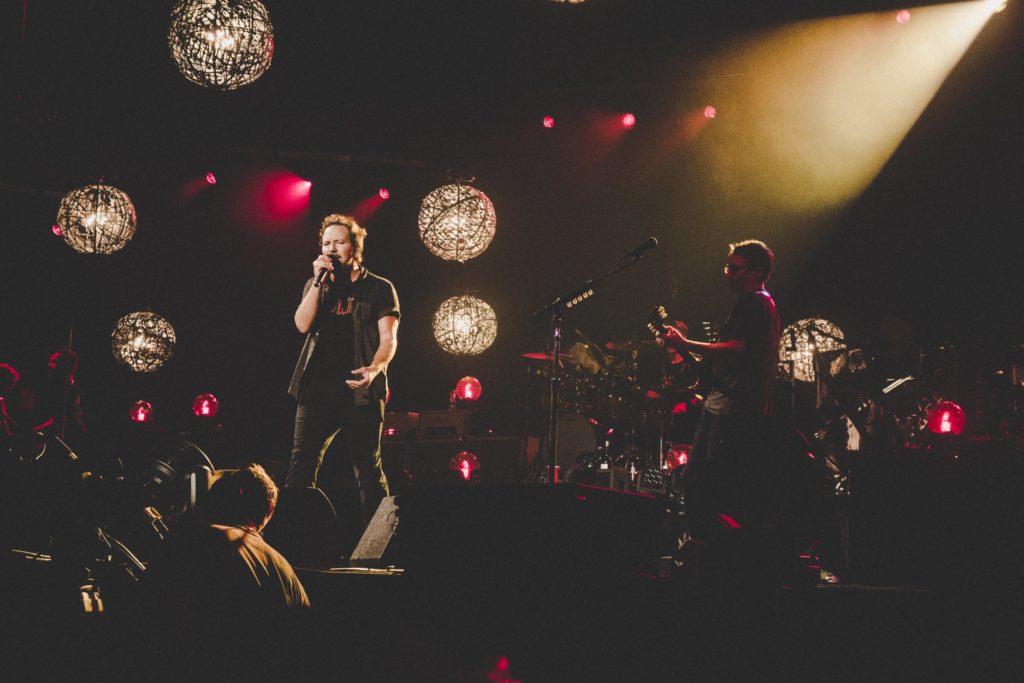 Set List:
With house lights on, the band comes onstage and Ed reads a message mostly in Dutch. In English he says, "We dedicate this to Anthony, my friend David and his brother Andrew. They are deep in our hearts tonight and we thank you."
01. Long Road
02. Low Light
03. Elderly Woman Behind The Counter In A Small Town
04. Corduroy
05. Do The Evolution
06. Given To Fly
07. Mind Your Manners
08. Red Mosquito
09. Wishlist
(Ed improvs lyrics for the outro hopefully waiting for our next president who will be a much better person.
Jeff confirms with Ed that orange, the national color of the Netherlands is also Jeff's favorite color.
He wishes them good luck in the World Cup. The audience boos and it becomes clear that Ed is teasing them because the Netherlands didn't qualify. "That would be like Italy not making it".
He says, "Mike has something he wants to tell you. He said it back in Melkweg and he wants to say it here.")
10. Even Flow
("Mike McCready, and about 10 feet behind me is one of the all time greatest drummers. He has played in some all time great bands and with us. Mr Matt Cameron!". Ed recognizes a person in the audience and teases him saying, "you had the yellow shirt in the elevator…and you were all over me..It is nice to see you but I am glad there is a barricade between us. But my room number is …" He talks about the next song being about the being handed an unknown drug and tells a story about Jeff getting high in Amsterdam while making the first record and ending up sleeping on a curb. He praises legalization in Amsterdam)
11. Severed Hand
12. Not For You
13. Daughter / Another Brick In The Wall Part 2-(Waters) 30 seconds lyrics only changes line to "Preacher Leave Those Kids Alone".
(Referring to "Daughter" Ed says speaking of girl who turn into amazing women this next song is by Brandi Carlile. We sped it up a little but I don't think we ruined it. But we haven't played it live yet.)
14. Again Today-(Carlile)
(Ed asks if William from Ireland is in the audience and says the next song is for you. He then stops and corrects himself and says not the next song but the song after. The next song is for everyone but don't go anywhere William. Mike gets confused about what song is next and after some back and forth the band play "Got Some".
15. Got Some
(So, this is for William..)
16. Down
(Our favorite museum is the MOCO museum. It isn't the biggest but it has the artists we like best and we want to thank the people that run it for welcoming us. You can't find a better man but you also can't find a better woman than Kim from MOCO)
17. Better Man
Encore Break 1
(When the band comes back they are all seated to play a couple of quiet songs. Ed holds up a photo of his friend Eric from the Tivoli (?). It is one of Ed's favorite places and while he is unsure if Eric is here tonight he wants to play the next song for him.)
18. Yellow Moon
19. Footsteps
(The chairs are removed, band stands up.)
20. Jeremy
(Ed goes to the barricade and sings with the audience)
21. Why Go
22. Porch
(Ed spots a woman in the audience and says, "I don't know your name but I recognize your face. She wants us to play a song but there is no way (Sweet Lew). He says they will work on it though. He dedicates the next song to Mr. Hanky Panky and a guy named George that he met today and to the entire audience for giving them so much positive energy)
23. Black
24. Alive
25. .Fuckin' Up-(Young)
26. Indifference
(Mike takes Polaroids of the audience at the front of the song. At the end of the set while saying thank you Ed indicates the audience is giving chills or goose bumps)
Check out the remaining tour dates in Europe and the United States by clicking here.