Chevelle will release an album of B-sides and rarities next month. The effort, 12 Bloody Spies, will arrive on Oct. 26. No other details about the effort have been revealed, but the Illinois rockers announced the release by mailing letters to 12 of their biggest fans. The band then posted a photo of the letter on Twitter.
The letter reads in part, "Chevelle is releasing its first-ever rarities album, 12 Bloody Spies, and you are one of the first 12 fans to get the news! We wanted to do something very special for you since you have been so dedicated and loyal over the years. Our fans are truly the best, and we want you to know how much we appreciated you." Read the entire letter below.
12 Bloody Spies, marks Chevelle's ninth album and is the follow-up to 2016's The North Corridor. It will be released on Oct. 26. Fans can pre-order the effort starting on Friday (September 28) here.
Chevelle will take the stage at Buzzfest in The Woodland, Texas on Oct. 27.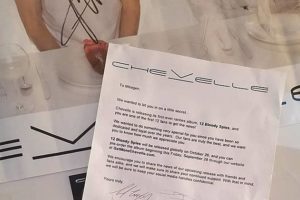 Chevelle, "Sleep Walking Elite"
'12 Bloody Spies' Album Artwork + Track Listing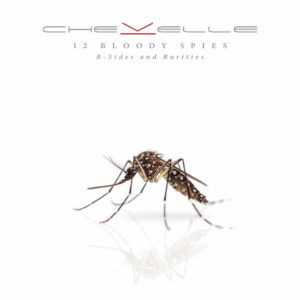 1. A Miracle
2. Sleep Walking Elite
3. In Debt To The Earth
4. Sleep Apnea (Acoustic Version)
5. The Clincher (Version 103)
6. Fizgig
7. Glimpse of the Con
8. Indifference
9. Until You're Reformed
10. The Gist
11. Delivery
12. Leto's Headache