When you think of Las Vegas, it's easy to think of the strip, lights, water show, and gambling.  However, most don't think about exhibits – especially one that details real human bodies throughout their lifetime. REAL BODIES at Bally's takes visitors on a journey asking them to explore who they are, where they come from and what they choose to do with the life and body they have been given.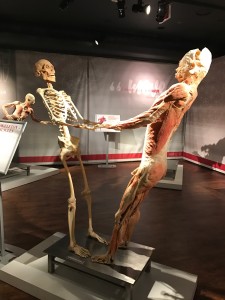 You get to not only see the details of the human body, but learn how the different organs work together. This is an extensive collection and it is fascinating.  These bodies were donated to science and they are exhibited in a very tasteful way that provokes thoughts, questions, and intrigue.  Real Bodies reveals the synergy between breathing, hunger, the rhythm of the heart, love, motion, thought, and medicine that makes each person unique.
This powerful exhibition explores life by displaying more than 20 real, perfectly preserved human bodies and more than 200 anatomical specimens. More than a simple display of human specimens, REAL BODIES at Bally's will connect audiences to a deeper sense of what it means to be alive.
Visit their official website to get times and pricing for the Real Bodies Exhibit here: http://www.realbodiesatballys.com