We're taking a break from the news and live show reviews to break down some of the best albums of all time.
Keep in mind, these are ONLY SOME of the best – not all of them and the focus is on the classic.  Which ones are missing?  Drop us a line and let us know!
The Greatest Rock Albums Ever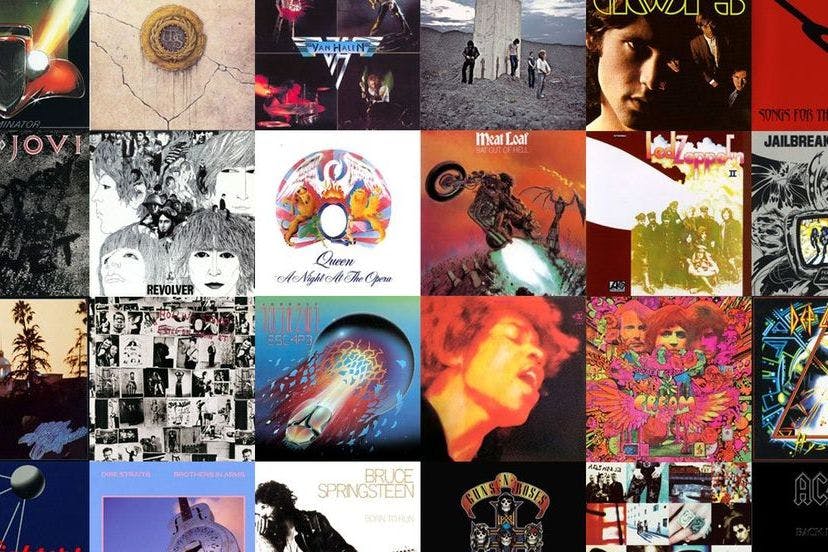 The Beatles – Revolver
Year: 1966
How to pick the best of the Beatles' rock albums? It's difficult, but it's hard to argue that Revolver deserves the crown. A work of breathtaking quality – be it songwriting, performance, or sonically – and it opened up the boundaries of what was possible in popular music. Full of classics, of varying styles: if you've never listened to it, you should do so right now.
Key Track: Tomorrow Never Knows
The 50 Greatest Rock Albums Ever 1
Cream – Disraeli Gears
Year: 1967
Probably rock's most successful supergroup, as the supreme individual talents of Jack Bruce, Ginger Baker and Eric Clapton combined to stunning effect. Disraeli Gears was their masterpiece, combining their classic rock and blues roots with psychedelia – as the cover hinted at (very subtly). It took just three and a half days to record; the product of a band at the peak of their powers.
Key Track: Sunshine Of Your Love
The 50 Greatest Rock Albums Ever 2
The Doors – The Doors
Year: 1967
The album which introduced the world to the shamanic genius of Doors frontman Jim Morrison and which was probably the best record they made. Their psychedelic sound, rocking tracks and Morrison's poetic lyrics set them out from the crowd, and nobody could argue with songs as good as Break On Through (To The Other Side), Light My Fire and the epic album closer The End, which was later to be used to mesmerising effect in Apocalypse Now.
Key Track: Light My Fire
The 50 Greatest Rock Albums Ever 3
The Jimi Hendrix Experience – Are You Experienced
Year: 1967
One of the greatest debut albums of all time, Hendrix announced his arrival on the scene with this record, which showcased his songwriting ability, virtuoso guitar skills and his not inconsiderable vocal skills – about which Hendrix was famously shy. It refined what was possible in rock, showcasing new sounds, new ideas, and a host of phenomenal songs. It's still irresistible today.
Key Track: Purple Haze (originally left off the British release, but restored later)
The 50 Greatest Rock Albums Ever 4
The Small Faces – Ogden's Gone Nut Flake
Year: 1968
A concept record with a title to match, this was the creative peak and last act of frontman Steve Marriott. A quintessentially British affair, it featured psychedelic elements in both music and lyrics, a story about a boy named Happiness Stan – narrated by Stanley Unwin – and a host of memorable tracks. Lazy Sunday was originally written as a joke about arguments with Marriott's neighbours and released against the band's wishes. You can't keep a good tune down though, and it duly raced to No.2.
Key Track: Lazy Sunday
The 50 Greatest Rock Albums Ever 5
The Band – Music From Big Pink
Year: 1968
A beguiling cocktail of country, rock, folk, classical and soul, Music From Big Pink was quite unlike anything that had been heard before. Striking out on their own after working as Bob Dylan's backing band, they nevertheless employed Dylan's help – he co-wrote five of the songs on this, but the rest – including the laidback style, was all their own. Hugely influential for fellow artists including Pink Floyd, George Harrison and Eric Clapton: a great record.
Key Track: The Weight
The 50 Greatest Rock Albums Ever 6
Jeff Beck – Truth
Year: 1968
More accurately, an album by the Jeff Beck Group, featuring as it did a host of legendary players, including Keith Moon, John Paul Jones, Jimmy Page, Ronnie Wood and Rod Stewart alongside the famous guitarist. Sonically, it was an eclectic bridge between blues and hard rock, featuring nods to Muddy Waters, B.B. King and Howlin' Wolf amongst others, and was to inspire countless future musicians (including Boston's Tom Schultz, who named it as his favourite album). An influential classic.
Key Track: Let Me Love You
The 50 Greatest Rock Albums Ever 7
The Jimi Hendrix Experience – Electric Ladyland
Year: 1968
A sprawling double album, this was to prove Hendrix's masterpiece. Not only was the great man himself on the form of his life, but so were his compatriots Noel Redding and Mitch Mitchell. A dense, psychedelic opus, it also contained taut singles, including his legendary cover of All Along The Watchtower, Crosstown Traffic and Voodoo Child (Slight Return). A genius in full flow.
Key track: Voodoo Child (Slight Return)
The 50 Greatest Rock Albums Ever 8
The Beatles – Abbey Road
Year: 1969
The last music recorded by the band with Sir George Martin, Abbey Road was created in a far-from-ideal environment for the Fab Four. Tensions within the band were high and Lennon proposed splitting the A and B sides between him and McCartney. Nevertheless, things came together – literally – for both principle songwriters, while George Harrison contributed two of his best-ever songs in the shape of Something and Here Comes The Sun. It stands, against all the odds, as a brilliantly cohesive piece of work.
Key Track: Come Together
The 50 Greatest Rock Albums Ever 9
Led Zeppelin – II
Year: 1969
It's very hard to pick a second Led Zep album for this list, to stand alongside IV, but II just about gets our vote. The blueprint for so much of what was to come in rock, it saw Jimmy Page come of age in the studio and as a guitar player, and Robert Plant refine his, in turns, howlin', then gentle, vocal style. And, of course, what opens the record? Probably the greatest guitar riff of all time in Whole Lotta Love. According to engineer Eddie Kramer, the mid-song breakdown, "where everything is going bananas, is a combination of Jimmy and myself just flying around on a small console twiddling every knob known to man." Well, it came out pretty good Eddie.
Key Track: Whole Lotta Love
The 50 Greatest Rock Albums Ever 10
Creedence Clearwater Revival – Green River
Year: 1969
Described at the time by Rolling Stone as "the most vivid American rock since Music from Big Pink", Green River had a lot in common with The Band's classic record. Rootsy, bluesy, country rock was the order of the day while, lyrically, it featured classic storytelling, and old childhood memories from frontman John Fogerty. Stick this on the stereo to be transported to a world of 60s Americana and good old rockin' tunes.
Key Track: Bad Moon Rising
The 50 Greatest Rock Albums Ever 11
The Who – Who's Next
Year: 1971
In a quandary over how exactly to follow up the sprawling rock opera Tommy, guitarist Pete Townshend attempted to create another concept piece in the form of Lifehouse. However, when audiences – who were meant to be part of the performance – failed to respond, it drove Townshend to the edge of a nervous breakdown and almost caused a band split. Eventually, they enlisted engineer Glyn Johns and instead recorded a straight-ahead rock record. It was a wise move – all nine tracks were incredible, they'd never sounded sonically better or more interesting, and every member was on top form. An undisputed classic.
Key Track: Baba O'Riley
The 50 Greatest Rock Albums Ever 12
Rod Stewart – Every Picture Tells a Story
Year: 1971
With Rod Stewart now indulging in easy listening covers and the like, it's easy to forget that he always had an effortlessly powerful rock voice. Nowhere was it better showcased that on this record, his third solo album, which featured guest appearances from fellow members of The Faces throughout. A great rock vocalist at the top of his game.
Key Track: Maggie May
The 50 Greatest Rock Albums Ever 13
Led Zeppelin – IV
Year: 1971
Arguably Led Zeppelin's finest moment, this was the record with the perfect blend of what made them one of the greatest bands of all time. Pure rock and roll thrills (literally, on track two), gentle folk and bulldozing hard rock. And, of course, in the case of Stairway To Heaven – all three in one song, complete with probably the greatest guitar solo of all time. Essentially, a faultless album.
Key track: Stairway To Heaven
The 50 Greatest Rock Albums Ever 14
The Rolling Stones – Exile On Main Street
Year: 1972
A record not highly regarded by the band themselves – Mick Jagger said that "when I listen to Exile it has some of the worst mixes I've ever heard" – but it remains a classic; a sprawling double album which captured the Stones at their most rootsy, their most bluesy, their most rock & roll. It was Keith Richards' finest moment and, although it didn't yield any smash hits, is a fantastically cohesive body of work.
Key Track: Tumbling Dice
The 50 Greatest Rock Albums Ever 15
Deep Purple – Machine Head
Year: 1972
If it didn't have a single other song on it, Machine Head would merit its place in this list purely for the four bars of the riff in Smoke On The Water, which millions of aspiring guitars would go on to learn. Fortunately, the rest of the record is also brilliant, laying the roots for the later development of heavy metal, with stellar guitar, drum and organ work completed by Ian Gillan's howlin' vocals.
Key Track: Smoke On The Water
The 50 Greatest Rock Albums Ever 16
David Bowie – Ziggy Stardust & The Spiders From Mars
Year: 1972
So much has been written about this album in the past that it seems a fruitless task to try and add any more. But when this record was released, it must have seemed like a literal alien had descended from Mars. A bisexual alien rock superstar alter-ego, lyrical themes of politics, sex and drugs, progressive production; it redefined what a rock star could do. And yet, all of this would have meant nothing if the songs were no good, but Bowie had that covered too. Still a thrilling listen.
Key Track: Starman
The 50 Greatest Rock Albums Ever 17
Pink Floyd – The Dark Side Of The Moon
Year: 1973
After the initial Syd Barrett-inspired success of their debut album The Piper At The Gates Of Dawn, it took a while for Pink Floyd Mk II to find their feet. There were moments of greatness throughout the subsequent six albums, but it all came to a head with The Dark Side Of The Moon. Everything about it was epic; the ambition, the scope, the dynamics. And, of course, it featured one of the greatest album covers of all time, designed by the legendary Storm Thorgerson. The public agreed: upon release, it stayed in the Billboard charts for an astonishing 741 weeks from 1973 to 1988. Profits from it even went on to help fund Monty Python & The Holy Grail and you can't argue with that.
Key Track: Us And Them
The 50 Greatest Rock Albums Ever 18
Alice Cooper – Billion Dollar Babies
Year: 1973
According to Cooper, "the whole idea behind the Billion Dollar Babies album was exploiting the idea that people do have sick perversions." Having achieved fame two years previously with Love It To Death, and followed that up with Killer and School's Out, the band really let rip on this record, writing lyrics that covered necrophilia, horror, sex and – because why not – the fear of dentists. Everything a rock record should be, it was provocative, strange and full of energy.
Key Track: Elected
The 50 Greatest Rock Albums Ever 19
Elton John – Goodbye Yellow Brick Road
Year: 1973
Prolific doesn't really do justice to Elton John's early output. Goodbye Yellow Brick Road was his seventh album in four years and contained 17 songs, with John writing the music for virtually all of them in just three days (For his part, Bernie Taupin took just two and half weeks to write the lyrics). This was Elton at his rocking, rollocking best, with a host of classic singles, including Candle In The Wind, Bennie & The Jets, the title track and the ultimate hedonistic rock and roll track, Saturday Night's Alright For Fighting; it was to become his best-selling album, and rightly so.
Key Track: Saturday Night's Alright For Fighting
The 50 Greatest Rock Albums Ever 20
Aerosmith – Toys In The Attic
Year: 1975
Aerosmith had already released two well-received albums before their major commercial breakthrough, and it was Toys In The Attic that did it for the Boston boys. A heady mix of the Stones and Led Zep, with Joe Perry providing the riffs and solos and Steven Tyler the blues and sex on lead vocals, it was dirty no-good rock and roll at its absolute finest.
Key Track: Sweet Emotion
The 50 Greatest Rock Albums Ever 21
Queen – A Night At The Opera
Year: 1975
Having released Sheer Heart Attack the year before – the album where it all came together for the early Queen era – they spread their wings still further on the follow-up A Night At The Opera. Full of incredible songs written by all four members and sung by three of them, laden with studio trickery and a whole range of styles, it is a masterpiece. And, of course, while its sheer ubiquity makes us take it for granted, Bohemian Rhapsody remains pretty much the greatest six minutes of music ever created.
Key Track: Bohemian Rhapsody
The 50 Greatest Rock Albums Ever 22
Pink Floyd – Wish You Were Here
Year: 1975
How could Pink Floyd follow up The Dark Side Of The Moon? Well, by recording an album that's arguably superior. It extensively explored the theme of absence – inspired by original singer Syd Barrett's plight – particularly on the stunning Shine On You Crazy Diamond, which bookended the record. A majestic record, dynamically and sonically rich, which explored different time signatures and sounds, but never forgot about the tunes and the lyrics. And of course, that 4-note riff in Shine On… which never fails to raise the hairs on the back of your neck.
Key track: Shine On You Crazy Diamond (Parts I-V)
The 50 Greatest Rock Albums Ever 23
Bruce Springsteen – Born To Run
Year: 1975
The album that saw Springsteen break into the mainstream, Born To Run was a masterclass in production and songwriting, full of swaggering tunes and coming-of-age lyrics which resonated with listeners across the globe. It took 14 months to record, with 6 of those being spent just on the title track. It is safe to say it was worth it.
Key Track: Born To Run
The 50 Greatest Rock Albums Ever 24
Boston – Boston
Year: 1976
The story of Boston's debut album is an incredible one. Upon getting a record deal, Boston main man Tom Scholz was unhappy at his label's suggestion that a producer be brought in to oversee the project. He hired a friend of a friend to act as an intermediary and stage an elaborate ruse to make Epic believe they were recording on the West Coast in a state-of-the-art location, while Scholz got to work in his tiny basement studio. He wrote or co-wrote every song, played virtually every instrument and engineered and produced the entire thing for a cost of just $2,000. It went on to sell 25 million copies and spawn huge, timeless, rock radio hits: all the product of a lone genius.
Key Track: More Than A Feeling
The 50 Greatest Rock Albums Ever 25
Thin Lizzy – Jailbreak
Year: 1976
The band's breakthrough album, Jailbreak, came after various lineup changes and four albums which had failed to chart. This record, however, was where it all came together: duelling guitars, a hard rock swagger and the descriptive lyrics of frontman Phil Lynott. The title track was a classic and, of course, it featured the irresistible blast of youthful rebellion that is The Boys Are Back In Town. It broke them in America and set them on the road to rock stardom.
Key Track: The Boys Are Back In Town
The 50 Greatest Rock Albums Ever 26
The Eagles – Hotel California
Year: 1976
It's fair to say that this one didn't do too badly on the sales front – over 32 million and counting worldwide. It wasn't all plain sailing though – Black Sabbath were recording in the studio next door and the band often had to stop because of the noise coming through the walls. A classic record in every sense, with its title track one of the most famous tracks ever recorded, it was inspired by a dark concept: the decline of America into materialism and decadence. A heavy theme for a grand record.
Key Track: Hotel California
The 50 Greatest Rock Albums Ever 27
Aerosmith – Rocks
Year: 1976
Released just a year after Toys In The Attic, there was no let up for Aerosmith on their fourth album, which did exactly what it said on the tin. It took the Toys.. blueprint and upped the ante, with its unrelenting rocking proving hugely influential for the likes of Slash and James Hetfield – who both said that Rocks made them want to learn guitar. For that alone, it deserves its place on this list.
Key Track: Back In The Saddle
The 50 Greatest Rock Albums Ever 28
Meat Loaf – Bat Out Of Hell
Year: 1977
An utterly unique piece of work, Bat Out Of Hell married the Wagnerian dreams of composer Jim Steinman with the truly larger-than-life quasi-operatic frontman that is Meat Loaf. It took years to record, it was rejected by many labels and executives, and even when it did find a home, almost everyone there hated it. Yet, slowly but surely, the record grew into a monstrous hit, selling more than 43 million copies, becoming a beloved rock classic. Thrilling, operatic and truly powerful.
Key track: Bat Out Of Hell
The 50 Greatest Rock Albums Ever 29
Van Halen – Van Halen
Year: 1978
Hit singles came later, but Van Halen's self-titled debut album was a thunderbolt from the blue for rock music. David Lee Roth swaggered and crooned, but it was Eddie Van Halen that was the star of the show, redefining rock guitar playing through his legendary Eruption – a song that was literally entirely a solo and which brought tapping into the mainstream.
Key Track: Ain't Talkin' 'Bout Love
The 50 Greatest Rock Albums Ever 30
Bruce Springsteen – Darkness On The Edge Of Town
Year: 1978
The follow-up to the smash hit Born To Run, Springsteen adopted a different approach, recording songs 'as live' with a full band and shying away from his commercial sound. Despite not boasting any hit singles, as a body of work it was arguably superior, and became a slow burn success. The album was summed up by the cover image, with Springsteen commenting: "When I saw the picture I said, 'That's the guy in the songs.' I wanted the part of me that's still that guy to be on the cover. Frank [Stefanko, photographer] stripped away all [my] celebrity and left [me] with [my] essence. That's what that record was about."
Key Track: Adam Raised A Cain
The 50 Greatest Rock Albums Ever 31
AC/DC – Highway to Hell
Year: 1979
If Back In Black heralded the start of a brave new era for AC/DC and a staggering debut for Brian Johnson, then Highway To Hell was the glorious final act of original singer Bon Scott. The first of their records to be produced by Mutt Lange, he refined and beefed up their sound to stunning effect as it became their breakthrough record. 10 tracks of no-nonsense rock and roll with riffs a-plenty, the most solid rhythm section in rock, and Scott's vocals blasting over the top: a fitting goodbye.
Key Track: Highway To Hell
The 50 Greatest Rock Albums Ever 32
Neil Young & Crazy Horse – Rust Never Sleeps
Year: 1979
An album with an interesting genesis, it was mostly recorded live at San Francisco's Boarding House and during a tour, with half the record being acoustic, and half electric. Arguably Young's greatest album, his beautiful melodies and lyrical brilliance shine out through all the album's nine tracks.
Key Track: Powderfinger
The 50 Greatest Rock Albums Ever 33
AC/DC – Back In Black
Year: 1980
Just how could AC/DC follow up Highway To Hell and, in particular, how could they even carry on after the tragic death of singer Bon Scott? With the blessing of Scott's family, they recruited Geordie frontman Brian Johnson and promptly made the best album of their career: a masterpiece in riffing, pure rock energy and tight songwriting and production. The ominous, slow and heavy Hells Bells set the tone for the record and, with barely any gaps between songs, it's nothing less than 42 minutes of unrelenting battering-ram rock and roll.
Key track: Shoot To Thrill
The 50 Greatest Rock Albums Ever 34
Journey – Escape
Year: 1981
Journey had already undergone quite a musical, erm, journey, prior to this record, their eighth album – but here the elements combined to perfection. Timeless songs – including the epic opener Don't Stop Believin', which would become the ultimate slow burn hit and a track that even Glee couldn't ruin – Steve Perry's peerless vocals, lashings of rhythm section groove and virtuoso guitar playing; it's nothing less than a classic. It's sold over 12 million copies and almost certainly inspired many more air guitarists the world over.
Key Track: Don't Stop Believin'
The 50 Greatest Rock Albums Ever 35
ZZ Top – Eliminator
Year: 1983
Named after the car that frontman Billy Gibbons built – and which features on the cover – Eliminator was Texas band ZZ Top's finest hour. The car was an appropriate metaphor, seeing as the record motors along, rocking throughout, with three enormous hits – Legs, Sharp Dressed Man and Gimme All Your Lovin'. A classic record from a band at the peak of their powers.
Key track: Gimme All Your Lovin'
The 50 Greatest Rock Albums Ever 36
Queen – The Works
Year: 1984
A Night At The Opera was the high point of Queen in the 70s but, as the band revitalised themselves after the relatively disappointing Hot Space, they found their stadium-filling sound on 1984's The Works. The title was inspired by a quote from Roger Taylor as recording began – "Let's give them the works!" – and they certainly achieved that, combining their rock roots together with synth and electronic elements. Radio Ga Ga, Hammer To Fall, I Want To Break Free and It's a Hard Life were all part of this record – you simply can't argue with tunes as good as those. A year later they would perform on Live Aid and steal the show, with Radio Ga Ga unifying Wembley and the world.
Key Track: Radio Ga Ga
The 50 Greatest Rock Albums Ever 37
Dire Straits – Brothers In Arms
Year: 1985
They might be dismissed in some quarters as dull and middle of the road, but those people are wrong: there's a reason Brothers In Arms sold more than 30 million copies and catapulted Dire Straits to stadiums everywhere – it's fantastic. Combining high end production, pop melodies, a touch of boogie as well as straight up rock, it boasted the enormous hits Walk Of Life, Money For Nothing and the epic, heartbreaking title track. Mark Knopfler proved throughout that while there might be quicker, and more fancy guitar players out there, he was one of the most effective, always choosing the right notes at the right time.
Key Track: Money For Nothing
The 50 Greatest Rock Albums Ever 38
Heart – Heart
Year: 1985
The world of rock might be seriously skewed toward the masculine, but Heart showed it doesn't have to be. Their self-titled eighth album, following a period in the commercial wilderness, was a bona fide classic, containing no fewer than five hit singles, including What About Love? and the brilliant These Dreams. We heart Heart.
Key Track: These Dreams
The 50 Greatest Rock Albums Ever 39
Bon Jovi – Slippery When Wet
Year: 1986
After two albums finding their feet, Bon Jovi decided to go for the jugular with their third album, enlisting the help of songwriter Desmond Child and producer Bruce Fairbairn. It was to prove a spectacular decision, with Slippery When Wet becoming an international smash, packed with stadium rock, sing-along staples such as You Give Love a Bad Name, Livin' On a Prayer and the epic power ballad Wanted Dead Or Alive. By the end of the subsequent tours after this came out, Jon Bon Jovi had indeed seen a million faces – and rocked them all.
Key Track: Livin' On A Prayer
The 50 Greatest Rock Albums Ever 40
Whitesnake – Whitesnake
Year: 1987
A defining record of 1980s power rock, Whitesnake was a white-knuckle ride through an array of big production, huge tunes, David Coverdale's powerhouse vocals and the virtuoso guitar skills of Adrian Vandenberg. Featuring two enormous hits in the shape of the rerecorded Here I Go Again (originally featured on their 1982 album Saints & Sinners) and the power ballad Is This Love, it was a huge crossover hit.
Key Track: Here I Go Again '87
The 50 Greatest Rock Albums Ever 41
Def Leppard – Hysteria
Year: 1987
Yet another appearance on the list for legendary producer Robert "Mutt" Lange, with the rock masterpiece that is Hysteria. It was a triumph for a variety of reasons, not least the recovery of Rick Allen. The drummer lost his arm in a car accident prior to recording, but the band waited for him to come out of hospital and recorded the biggest album of their career, full of huge-sounding no-nonsense stadium rock anthems – indeed, they aimed to make every song a potential single. It was to be the last album to feature guitarist Steve Clark, but what a fitting legacy.
Key track: Pour Some Sugar On Me
The 50 Greatest Rock Albums Ever 42
Guns 'N' Roses – Appetite For Destruction
Year: 1987
Almost the perfect distillation of pure rock songs, debauched lyrics and general insanity, Appetite for Destruction has it all. From the guitar blasts at the start of Welcome To The Jungle all the way through to the groupie-assisted end of Rocket Queen, there is simply no let up, with Duff McKagan, Izzy Stradlin and Steven Adler's powerhouse rhythm section laying the groundwork for the majestic guitar playing of Slash and the raw vocal power of Axl Rose. They burnt briefly, but brightly, and this was their true peak.
Key track: Sweet Child o' Mine
The 50 Greatest Rock Albums Ever 43
U2 – Achtung Baby
Year: 1991
After achieving worldwide fame with The Joshua Tree and then capitalising with the good, but flawed continuation of Rattle & Hum, U2 were in need of a creative refresh. They promptly decamped to Berlin, embraced electronic and industrial sounds and took themselves a whole lot less seriously. It was probably their darkest, densest record; but, paradoxically, contained their most uplifting hit, the anthemic One. Inventive, interesting and full of great songs, it's probably their best album.
Key Track: The Fly