It's been a long time coming, but after 2 years, the Pearl Jam tour has commenced with a hometown show for frontman Eddie Vedder in San Diego, CA on May 3rd.  The venue is unique with steep steps and great sightlines anywhere in the Viejas Arena which is on the San Diego State Univerity campus.
Eddie mentioned how special the homecoming show is for him and the guys saying, "Because of our location, we're choosing songs that have something to do with the ocean even if they don't mention it in the words.  Well half of 'em were written in the ocean anyway!" After the third song of the evening, Never Destination, Ed greets the crowd and says "Well, thank you for your patience," followed by a standing ovation from the crowd.  It's official, Pearl Jam are finally back on tour!
Eddie and the band pay tribute to the Foo Fighters drummer Taylor Hawkins before performing the Gigaton song "Quick Escape".  Referring to Hawkins, he said, "You put all of these lights together and they still wouldn't match up to the light that poured from within that guy. He emitted something very special. I'm so sad for your loss. But it just gives us another chance to say how much we appreciated you as well."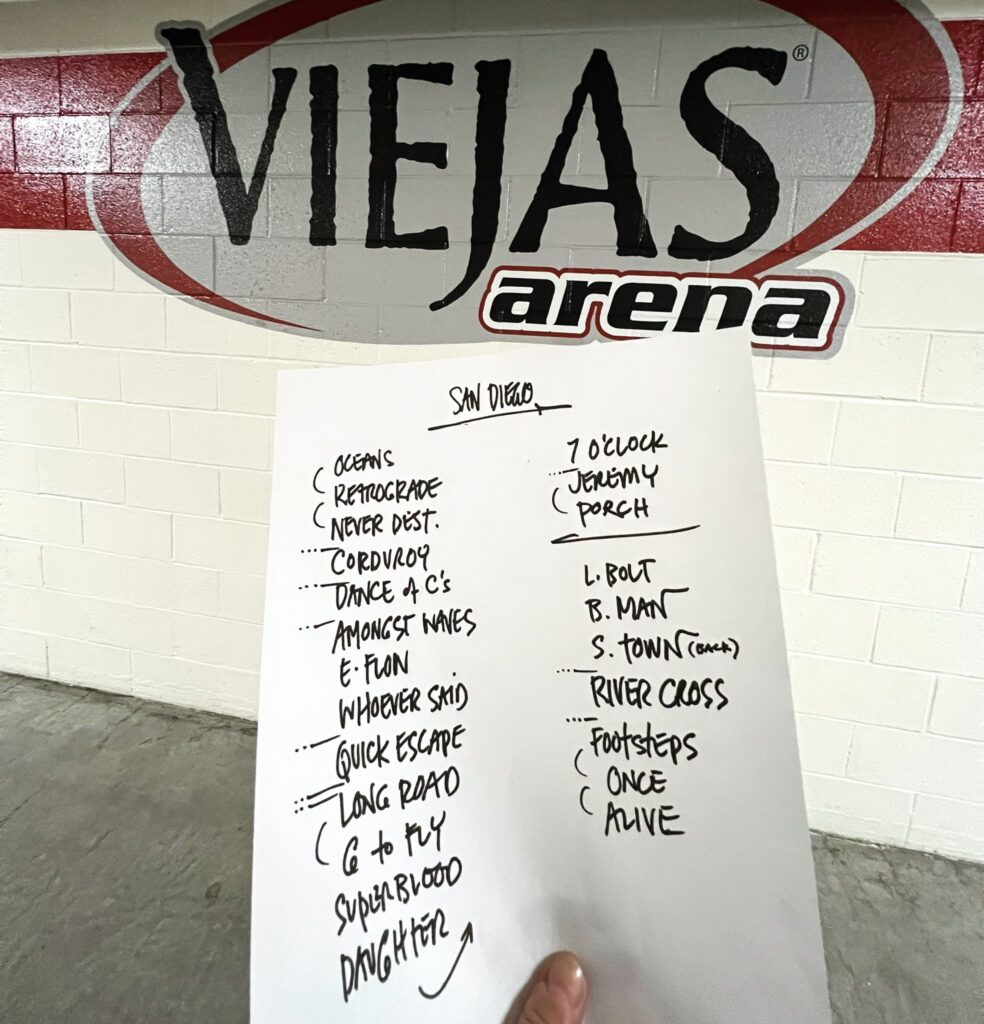 Main Setlist: Oceans, Retrograde, Never Destination, Corduroy, Dance of the Clairvoyants, Amongst The Waves, Even Flow, Who Ever Said/((I Can't Get No) Satisfaction), Quick Escape, Long Road, Given To Fly, Superblood Wolfmoon, Daughter/(In My Tree), Seven O'Clock, Jeremy, Porch
Encore: Lightning Bolt, Better Man/(Save It For Later), Elderly Woman Behind The Counter In A Small Town, River Cross, Footsteps, Once, Alive
Eddie Vedder's guitar teacher is in attendance, he can't see him face to face because of COVID protocol so he guides the spotlight to him. He jokes "I'm not gonna talk this much at the other shows…this feels like home so…" The Daughter tag is In My Tree followed by a call and response. Ed talks about Jeff and Stone playing together for 39 years, says they should do a podcast together about it.  He jokes that they never thought they'd live to 39. He tells a story about bullying leading into Jeremy, saying the song was somewhat based on things he witnessed in junior high school in the area. Porch closes the set, with Ed reflecting light into the crowd on his guitar pickguard.  After the break, Ed says he's sorry he couldn't visit all the people he knows here, and says Jeff is the smart one because he has a house in San Diego now. And a big shout out to Live on 4 Legs podcast and website for the concert breakdown and tour reaction podcast!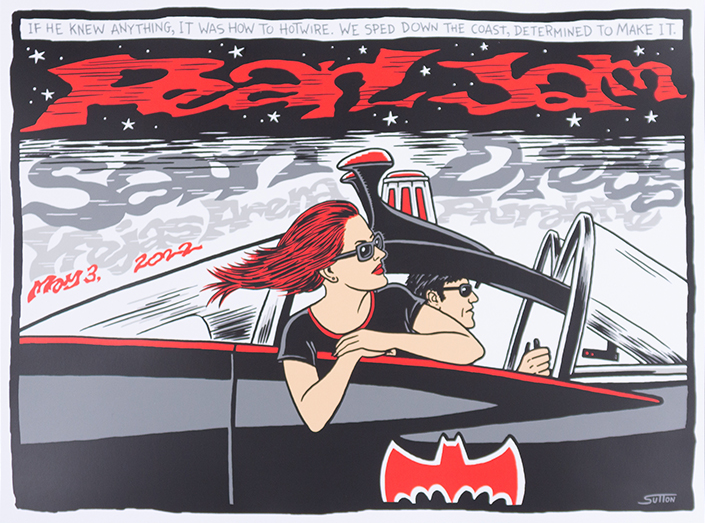 View the remaining tour dates for the first leg of Pearl Jam's tour before heading over to Europe for the summer.