Pearl Jam was finally able to fulfill the tour dates from back in 2020 when they were postponed due to covid-19.  The band and fans enjoyed songs spanning their entire career including rare b-sides and deep cuts.  Pearl Jam offered various covers, ranging from material written by Pink Floyd, Neil Young, Tom Petty and The Who.
Last night's show also featured tour debuts of "Thin Air" and "Just Breathe" during the band's last gig.  Pearl Jam's Denver performance began with "Long Road" and "Elderly Woman Behind the Counter in a Small Town" before they embarked into uncharted territory of their current tour on "Thin Air" and "Just Breathe." They followed up with "Present Tense" before the psychedelic instrumental masterpiece, Pink Floyd's 1967 number, "Interstellar Overdrive."
Here's the full handwritten setlist from Pearl Jam's Denver Show: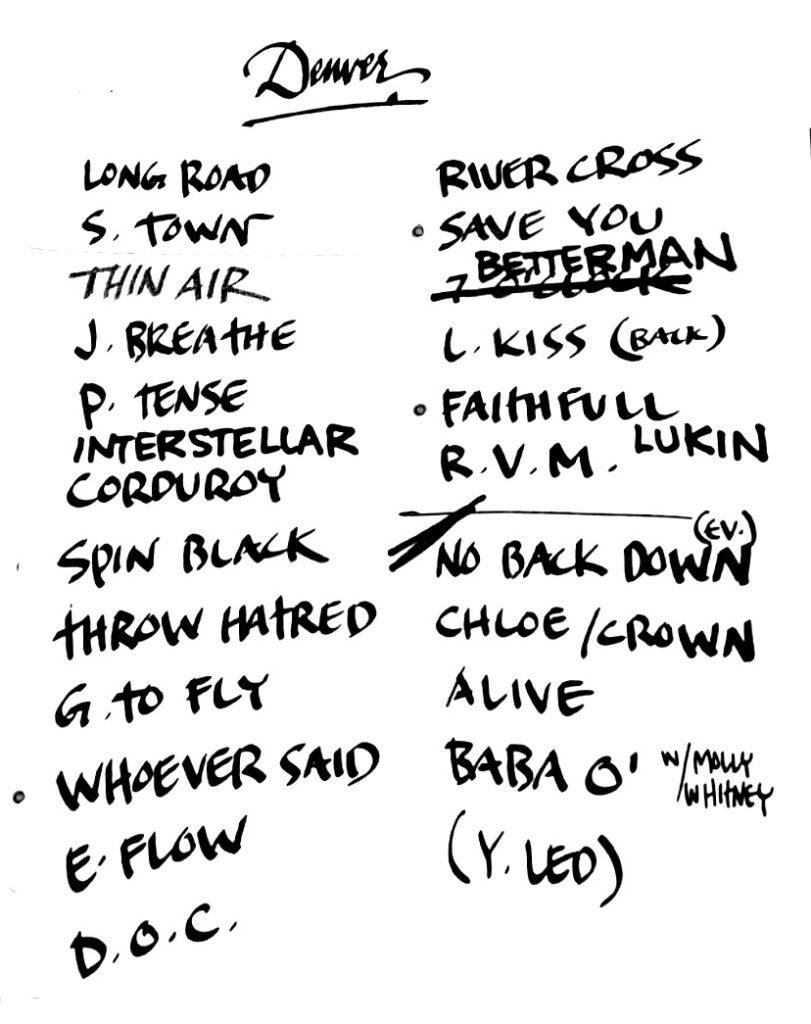 The setlists have been notably shorter during the entire 2022 run ranging a little over 2 hours and 19-23 songs rather than 3+ hours at 30+ songs.  They added Plural One as an opener to play a short 20 minute set at the start of the show.  Eddie Vedder made some remarks throughout the show that had fans questioning, "Was this the last Pearl Jam show, ever?!"
"You let us go out on top!"
"This will be the last show for the foreseeable future."
"This might be Mike McCready's last show."
These statements were made throughout the show. Was it just banter between songs?  Is PJ done touring for the immediate future or for good?  The message boards and Facebook groups are buzzing with theories, but everyone enjoyed the shows on this run with a lot of surprises.
View the video of their final song of the evening and final bow of the tour on fan footage shared on YouTube: