Typically, you'd need to do a good bit of traveling & spend a lot of money to see the line up that will be featured at the 23rd WJRR's Earthday Birthday.
It's one the biggest rock shows in Florida that draws over 15,000 with its yearly show & the line ups continue to be impressive.  The best part about the show is that there's 3 stages featuring non stop music all day long including the JRR Unplugged Acoustic Stage which gives fans a rare chance to catch an acoustic set.
Music isn't all you can expect.  This year, the Earthday Birthday festival will also include a Midway featuring rides that are included in the price of admission, Mel's Bad Girls Club Art Walk, Vendor Village, and the Globe of Death Motorcycle demo, and charity row.  Talk about one hell of a day!
The eclectic mix of acts this year ensures anyone that attends will have a band they love & another they'll love to discover.  From headliners 311 & Breaking Benjamin to local heros Trivium, it's a full day of rock.  For more information, check out their official Facebook Page.
Here are the set times listed from WJRR: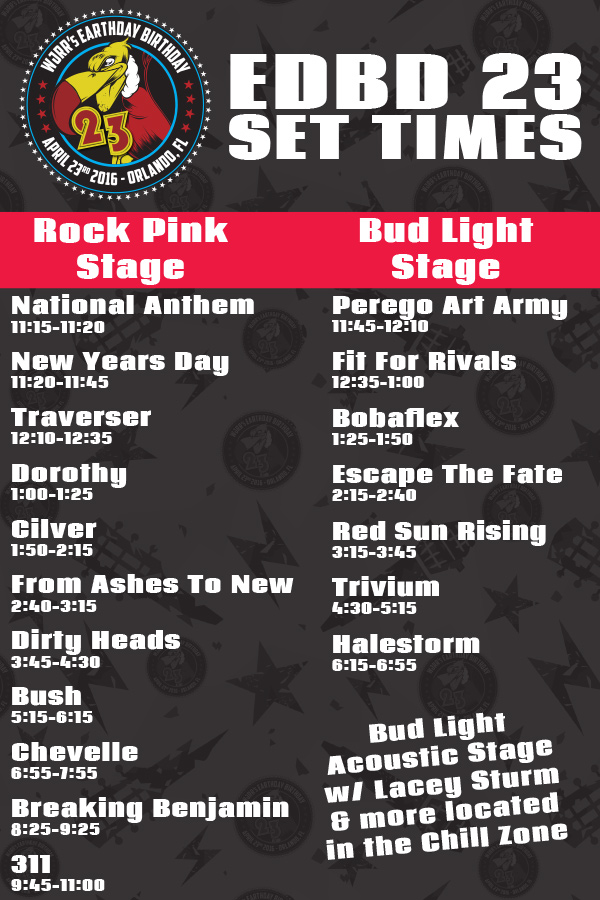 Be sure to check out the website for more information & Tickets:
CLICK HERE TO VISIT THE OFFICIAL WEBSITE.
Watch The Earthday Birthday Video below: