SHINEDOWN will celebrate the arrival of its new studio album, "Planet Zero", with a free Veeps global live stream of their record-release-day event on July 1. Taking place at Daddy Kool Records in St. Petersburg, Florida, beginning at 3 p.m. EST, SHINEDOWN will perform a ticketed free outdoor show followed by a celebration and signing in-store with fans. Tickets sold out instantly, but we have a pair up for grabs for the show!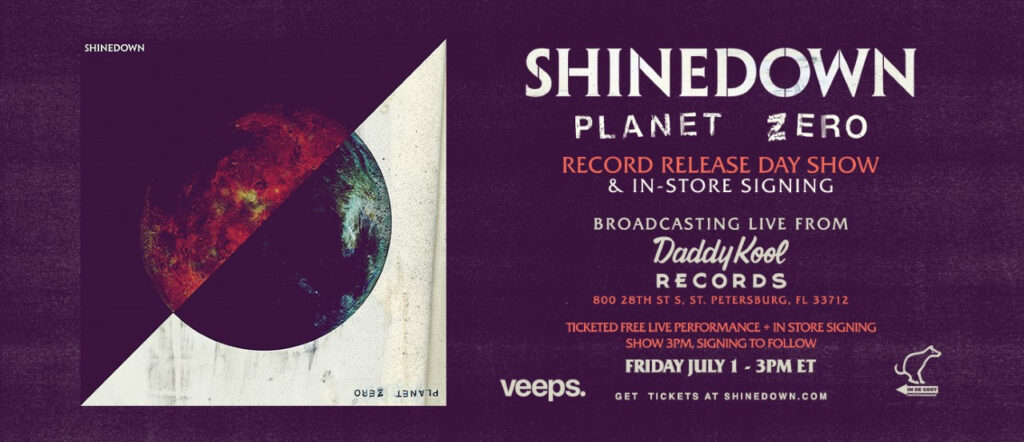 WIN A FREE PAIR OF SOLD OUT TICKETS TO SEE SHINEDOWN! To enter, simply submit an e-mail to LiveScopeCo@gmail.com with your favorite Shinedown song and where you live. Please enter only if you can make the show on July 1st.
Earlier this month, SHINEDOWN released a soaring and poignant anthem, "Daylight". The track is the latest addition to a catalog that has earned the SHINEDOWN members recognition for their timely and relevant messages behind their chart-topping hits that resonate with not only their global audience and the rock community, but the greater public and our culture at large. With more than 6.5 billion global streams, the record for the most mainstream rock No. 1 hits ever, platinum or gold certification for all their albums, and major media praise, SHINEDOWN has cemented their status as one of the most vital and forward-thinking powerhouses in music.
"Planet Zero" is an album that is an incisive yet optimistic look at the fractures and frays of a society that has undergone many challenges in the last few years, seeing SHINEDOWN take on the forces that are keeping us divided at a time when we need to be coming together. The high-concept, viscerally charged album, produced by SHINEDOWN's Eric Bass, takes a hard look at the divisiveness among those of differing ideologies, cancel culture ran rampant, the toxicity of social media, the need for honesty in our public discourse, and the corrosive effects of these things on mental health and humanity.
A dystopian saga that warns of dangerous dehumanizing consequences, "Planet Zero" is a reminder that if we shut each other down, we risk losing empathy, respect for one another, and our ability to communicate and unify in a way that leads to actual progress and understanding. The album also shares hope, perseverance, triumph, and reminders that we all need one another, like on "Daylight". After all, it is the band's impassioned striving for unity that has long been at the heart of their creative output.
WIN TICKETS to the record release show on July 1st by sending an email to livescopeco@gmail.com with your favorite song and where you live to enter!